Our 4,000 square foot facility incudes a fully networked training lab. This lab is used to host our various Certification Programs and can easily accommodate groups of up to 10 individuals.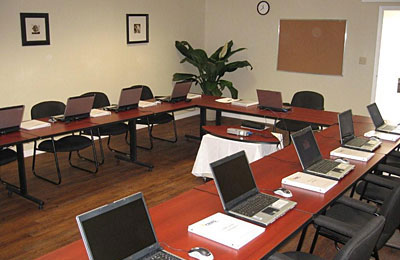 In house training is highly recommended for your best quality training experience. These comprehensive courses are offered at regular intervals over the course of the year and include the following:
CRMS V.2 Certification Level 1
Basic "CRMS Administrator L1" (2 day course)
Course Outline DAY 1 
CRMS Administration Module
Category Table
Administrtation Tabs
Agency Information
Audit LogUser Groups
User Administration
Interface Sorting
Client Lockbox
Program Management
Workflow Administration 
Postal Code Counties
CRMS SearchEngine- Search Dashboard
Client Chart Pages
Client Section Quiz
Review and Hands-on Practice
Question and Answer Period
Course Outline Day 2
Forms and Notes Section
Reportable Forms vs. Note/Letter Templates
Section Quiz
Client Contacts, Groups, Info & Referral, Non-Client Services
Section Quiz
Reports, MIS/CDS Maintenance Plan
CRMS Cheat Sheet Plan
Non-CDS/MIS Report Cheat Sheet (Client Tab, Contacts Tab, Misc. Tab, Info & Referral Tab, Management Reports Tab)
Section Quiz
Review; Hands-on Practice
Question and Answer Period
Level 1 Final Exam
CRMS V.2 Certification Level 2
Intermediate "CRMS Administrator L2" (1 day course)
Course Outline
CRMS Document Design
Creating Reportable Forms
Controls
Designing Reportable Forms
Formatting
Tips and Tricks
Shortcut Keys, Copy/Pase, FAQ
CRMS Data Exporter
Install Data Exporter Utility
Creating Custom Reports
Modifying Custom Reports
Level 2 Final Exam
CRMS V.2 Certification Level 3
Advanced "CRMS IT SPECIALIST L3" (1 day course)
Course Outline
Level 3 Certification
This course is very specific, and is tailored as a custom training program for each agency.  It is recommended for Data Analysts or IT Technicians who have a good knowledge of databases, although not mandatory.  It consists of showing how to make and ODBC connection to the CRMS database using your preferred method (MS Excel, MS Access, Crystal Reports or SQL).  The training covers details on the database structure and where/how data is linked/saved into CRMS.  Then, how to utilise your preferred method to run some basic queries.  Prior knowledge of your preferred method is assumed (Exel, Access or Crystal Reports) and is not part of the training. From the selected connection method you will be shown how to create your own reports, run your own queries and analyse your own data without the need to contact CRMS Support.  This can save your organization substantially on Report Design and Cusomization fees.
Note:  Level 1 and Level 2 Certification are prerequisites to this course.  
Contact sales@crms-software.com for more information